Who is the man masquerading behind the persona of Kasino King?
Well, I'm just an ordinary bloke! English born & bred, middle-aged & slightly overweight. I worked in a large office in a medium sized company on less than national average salary for 11 years, where I sat looking at a computer screen 8-5.* In the evenings I transformed into Kasino King in a tiny office where I sat looking at a computer screen 7-11+. My job was usually quite hectic & stressful, so by the end of the week I badly want to get out & play golf. And that's just what I usually do - go out & play golf badly!!
I was born in Sussex, but from the age of 1 to12 was dragged around various parts of the west country by my parents before finally returning to a different part of Sussex, where I have been ever since.   Married twice (divorced once!), but been a 'DINKY' all my adult life. (Dual Income, No Kids Yet - with the emphasis on the 'Yet'!)*. This enabled me to do quite a bit of holiday travelling; been to most places in Europe (mainly on a motorbike!), Africa twice & USA 6-times (Vegas 3-times).
* Updates:
No longer a DINKY – became a proud dad to a beautiful girl March-2008! J
Shortly afterwards I gave up my day job to become a "house husband" looking after my daughter while my wife carried on working (bless her!)
Later I became an equally proud dad to a gorgeous little boy in October 2010!
Unfortunately got into gambling at a very early age (in my teens), but have always been reasonably controlled and never got into really serious debt.  First played in a real casino in the mid 90's, and turned to the online version in 2001.  
I was already starting to be pretty good at winning online when early in 2002 I was introduced to the husband of my wife's friend's, friend.  This guy introduced me to the game of poker – something I have never forgiven him for because it cost me $1,000's!! L
For about 6 months I occasionally went to a little 'poker school' with him, playing mostly Omaha for relatively low stakes.  I won some & lost some, but always enjoyed it. The real poker games stopped when my new friend got heavily into debt due to letting his gambling get out of control, and he just suddenly gave up all betting completely. Shortly afterwards he moved away and we lost all contact.
Anyway, the whole point of this story is that he called himself 'Poker Prince' – he even had a cap with this name embroidered on the front. (How sad! J)  It was this that gave me the idea to start calling myself 'Kasino King' – and as you can tell, I've stuck with it ever since!
During this same time I started playing poker online where I discovered that I was very, very good… at losing.   I lost $1,300 of my hard-earned casino profit to online poker in my first 3-months playing and over $3,000 in my first year before finally getting a grip.  I virtually gave up completely and since then limit my deposits and mostly just play the lowest buy-in 1 table tourneys - just for fun.
For more detail about how I got into online gambling see; How did I start
Mugshots!
<![if !vml]>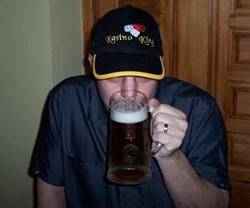 <![endif]>              <![if !vml]>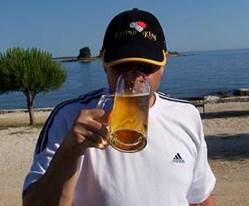 <![endif]>
Drinking a cool, clear, pure beer in Czech Republic                Drinking a cool, clear, pure beer in Croatia        .
<![if !vml]>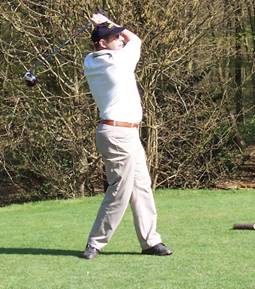 <![endif]>              <![if !vml]>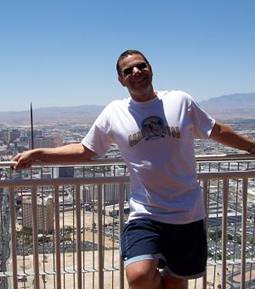 <![endif]>
Playing golf (badly!)                                                  Vegas – on top of The Stratosphere